Rugs cost a lot of money and leather rugs are the most expensive among them. They require proper care and regular cleaning to prolong their lifespan. There are many stains that can be formed on leather rugs at home. While you eat and drink on your rugs there are many chances of spilling and formation of stains. Red wine is one of the most common things people love to drink and there are many chances of spillage of wine on the leather rug. Red wine stains can be very dangerous and cause many problems if they are not removed on time. There are some of the best homemade remedies by which you can get rid of red wine and all such stains from leather rugs. To know in detail about how to remove red wine stains from leather rugs, read the blog carefully.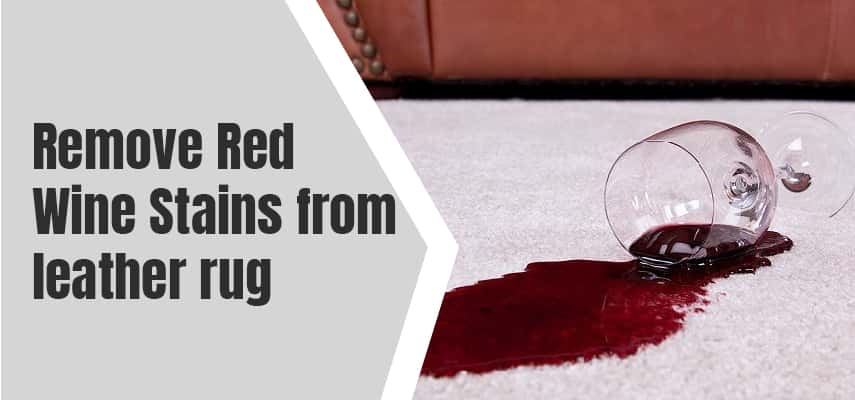 Steps For Removing Red Wine Stains From Leather Rugs
Method 1- Use Hydrogen Peroxide- Hydrogen peroxide is one of the best solutions used to get rid of stains from leather rugs. Follow the given steps to use hydrogen peroxide as a stain remover.
First, use a clean paper towel and absorb liquid wine from the rug. Make sure you don't press it hard instead blot it slowly on the leather rug.
Now dip another fresh clean paper towel in the hydrogen peroxide solution and wring it out. Now place the paper towel on the stains and press it with a heavy object. Applying this solution will help in getting rid of the tough wine stains from the leather rugs.
Wait for half an hour until the hydrogen peroxide solution completes its work and if there are still some stains left on the leather rugs, you can repeat the process by dipping another dry cloth in the solution and placing it on the stains.
Once the stains are removed you can use a conditioner to use a soft cloth and apply it on the leather rugs.
Method 2- Use Baking Soda- This is another homemade remedy used to clean all types of stains from leather rugs.
To start with you have to blot away the excess wine stains from your rugs using a clean cloth. Make sure to blot it slowly and avoid rubbing it to prevent it from spreading.
Now you can sprinkle enough baking soda on the leather rugs. Make sure it covers the whole stains on the rugs.
Once the baking soda gets settled on the rugs, you can then use a vacuum cleaner to remove the baking soda along with the stains.
Get Professional Help- There are several types of stains and many types of rugs available these days. Cleaning every stain can be a difficult process. Professionals can help you in removing all kinds of stains from leather rugs. Professional Rug Cleaners Brisbane can clean all kinds of stains by using their knowledge of rug cleaning services. You can hire professional rug cleaners at carpet cleaning brisbane to get top-class rug cleaning services at reasonable prices. They are the most experienced and skilful Rug Cleaners in Taringa. Think about the process and make your choice, whether you can do it yourself or you need to hire professionals.